Yu-Gi-Oh Ultra Rare/Limited Edition/1st Edition Cards In Collector Album NEW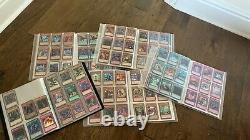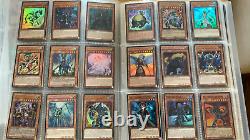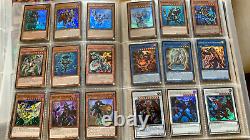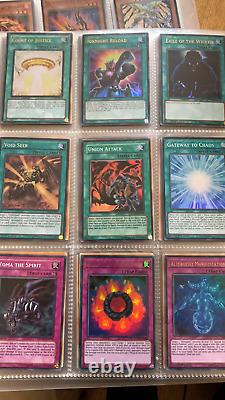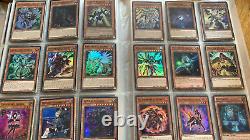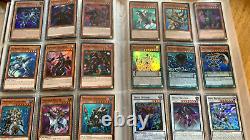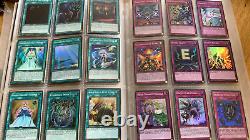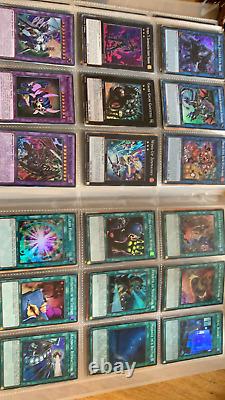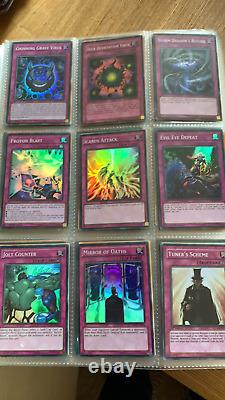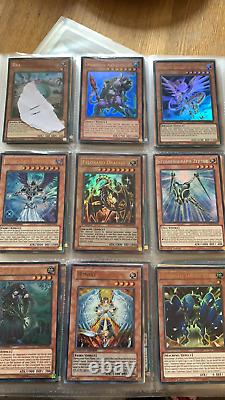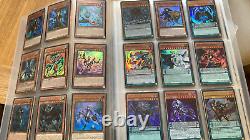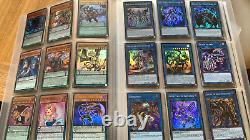 Fans out there, this is the biggest collection you can ever wish to own! You will not get a better offer! Comes with a Playing Cardboard Matt and 950+ Cards to play with! All cards are in NEW condition and placed in Collector Albums. All cards are Holographic 1st Ed. Itions/Limited editions and Rare from 1996 Original Konami/Kazuki Takashi/Studio Dice and TV Tokyo issues. A partial list of all cards included in this package: Eva SR05-EN000. 2x Hieratic Dragon Of Tefnuit DUPO-EN080. 2x Darklord Asmodeus LC02-EN004 Limited Edition. 2x Sylvan Bladefender LVAL-ENSP1 Limited Edition.
2x Shurit, Strategist of the Nekroz DUPO-EN084. Mist Valley Soldier HA01-EN006 Limited Edition. 2x Mythical Beast Medusa EXFO-EN024. 2x Twilight Ninja Kagen BLLR-EN017.
3x Lector Pendulum, the Dracoverlord SHV1-EN023. 6x Dragoons of Draconia SECE-ENSP1 Limited Edition. Zefraxi, Treasure of the Yang Zing PEVO-EN046.
2x Master Pendulum, the Dracoslayer BOSH-EN023. 6x Auram the World Chalice Blademaster COTD-EN049.
5x Gouki The Great Ogre COTD-EN045. Galatea, the Orcust Automation SOFU-EN043. 2x Code Talker Inverted IGAS-EN096.
2x Longirsu, the Orcust Orchestrator SOFU-EN044. Ib the World Chalice Priestess COTD-EN048. 2x Number 10:Illumiknight CT08-EN004 Limited Edition.
4x Gaia Dragon, the Thunder Charger BLLR-EN065. 2x CXyz Coach Lord Ultimatrainer NUMH-EN038. 3x Number 27: Dreadnought Dreadnoid DUOV-EN083.
Number 32: Shark Drake GAOV-EN042. 2x Orea, the Sylvan High Arbiter MP15-EN028. Number 26: Spaceway Octobypass BLHR-E027. Heroic Champion - EXcalibur CT09-EN002 Limited Edition.
Number 96: Dark Mist ORCS-EN043. Castel, the Skyblaster Musketeer CT12-EN006 Limited Edition. 2x Cyber Twin Dragon SDCR-EN037.
Super Vehicroid- Stealth Union DUOV-EN078. Red-Eyes Black Dragon Sword DRL3-EN066.
2x Phantasm Emperor Trilojig DUOV-EN039. Clear Wing Fast Dragon DUDE-EN011. 2x Ally of Justice Field Marshal HA02-EN030 Number 20: Giga-Brilliant ZTIN-ENV02 LIMITED EDITION. 3x Vector PEndulum, the Dracoverlord PGL3-EN041. 2x Traptrix Myrmeleo PGL2-EN037 RARE.
2x Mystical Space Typhoon PGLD-EN079. 3x Brotherhood of the Fire Fist - Tiger King PGLD-EN045 ULTIMATE RARE. Reinforcement of the Army PGLD-EN058. Isolde, Belle of the Underworld PGL2-EN010. 8x Absolute King Black Jack PGL2-EN002.
2x Bujintei Susanowo CT11-EN002 LIMITED EDITION. Frost Blast of the Monarchs PGL3-EN012. Grand Horn of Heaven PGL3-EN040. Buster Gundil the Cubic Behemoth MVP1-ENG35. Summoner Monk GLD4-EN027 LIMITED EDITION. 2x The Fabled Cerburrel HA04-EN008. Valkyrion the Magna Warrior YGLD-ENB01. 2x Ninja Grandmaster Hanzo ORCS-EN029.
2x Indiora Doom Volt the Cubic Emperor MVP1-EN038. Decode Talker DUPO-EN106 LIMITED EDITION.
3x Trickstar Holly Angel COTD-EN044. 2x Decode Talker YS17-EN041 1st Edition.
2x Gaia Saber, the Lightning Shadow DUDE-EN022. Zerrziel, Ruller of the Evil Eyed INCH-EN031.
Nekroz of Decisive Armor THSF-EN019. 2x Gouki Thunder Ogre MP18-EN133. 2x Decode Talker Extended DUDE-EN024. Imduk the World Chalice Dragon BLRR-EN086.
Kyoutou Waterfront BLRR-EN089 5x Photon Cerberus NUMH-EN022. Botanical Lion CSOC-EN099 Super Rare. Merklord Astro Dragon Asterisk EXVC-EN015 Rai-Mei CSOC-EN085 Rai-Jin CSOC-EN084. Beast Machine King Barbaros Ur AMPR-EN097 Red OGre CSOC-EN096. Il Blud CSOC-ENSE2 Limited Edition.
Harvest Angel of Wisdom CSOC-ENSE1 Limited Edition. Edge Imp Sabres FUEN-EN018 Assault Blackwing-Chidori the Rain Sprinkling SHV1-EN051. World Legacy`s Memory FLOD-ENSE3 Limited Edition. Dream Mirror of Terror RIRA-EN090. Blackwing-Gram the Shining Star TDIL-ENSE1 Limited Edition.
Old Entity Hastorr CT12-EN05 Limited Edition. Wavering Eyes CROS-ENAE3 Limited Edition. 2x Dark Magician CT14-EN001 Limited Edition.
Rise of the Snake Deity RYMP-EN083. Vennominaga the Deity of Poisonous Snakes LCGX-EN191 Gold Sarcophagus YGLD-ENC26. Gold Sarcophagus DREV-ENSE2 Limited Edition. Vennominon the king of poisonous snakes TAEV-EN014.
Dark Magic Twin Burst DUPO-EN018. This is only partial list of the lot as it is too big to list individually. For any questions feel free to ask. This item is in the category "Collectables\Collectable Card Games\CCG Mixed Card Lots". The seller is "raptor_22" and is located in this country: GB. This item can be shipped to United Kingdom.
Card Type: Artifact, Artifact Creature, Basic Land, Creature, Effect, Spell, Trap
Manufacturer: Konami
Game: Yu-Gi-Oh!