Times Square, New York by John Suchy Signed limited edition Stunning Piece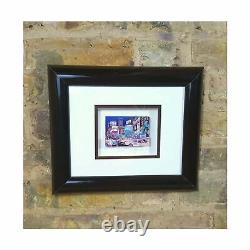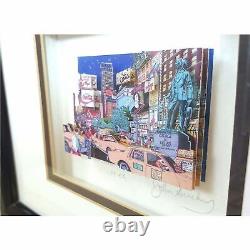 Times Square, New York by John Suchy - Signed limited edition. Media: Paper / Mixed Media. Edition: Artist Hand Signed and Numbered Limited Edition to 450.
Image Size: Framed size is 33cm x 28cm x 3.5cm deep Art Size: 9cm x 6.5cm About the Artist. Born in Brooklyn, New York in 1946. He was raised in Westbury, Long Island and was introduced to drawing by his Uncle, John Graham, a self taught Artist. After High School he attended the School of Visual Arts in Manhattan and studied there for three years. After graduating from Visual Arts he worked for the next twelve years for large and small advertising agencies learning and doing advertising and promotional skills.
During most of these years he attended night classes at the School of Visual Arts, the Pan American Art School, and the Art Students League in N. For three years he studied with John Gudlefinger at Visual Arts who taught through many different lessons, not a style of drawing but a way of looking at objects no matter how complicated and breaking them down into their simplest form. During the early seventies while living on the Upper West Side of Manhattan Suchy started drawing the elegant architectural landmarks as well as the Human Landmarks of the neighbourhood.
He started displaying his Art on the sidewalks of Manhattan in 1974 either in neighbourhood street shows or by selecting various street corners around Manhattan and just opening up his display. On the streets he met all kinds of people, and received many criticisms and suggestions both good and bad about his art. Many people would stop and talk about art, themselves and many problems they faced living in the city. By displaying on the streets, Suchy received various commissions including portraits of people, brownstones, homes, boats, animals, landscapes, city scenes, restaurant scenes (interior and exteriors) and learned many scenes of Manhattan that New Yorkers and tourist from all around the world found special to themselves. Since 1980 Suchy has been working in the Three Dimensional medium. He says, It's a popular medium and I feel it gives a great deal of pop to my work and adds more fun to them. In September of 1992 Suchy had a one man show of his New York City scenes at the Matsu Gallery in Tokyo, Japan on the Ginza Strip.
This exterior view shows this magnificent building and a busy street scene from the corner of Broad and Wall Street. In March of 1995 Suchy released a 3 D edition of signed and numbered prints titled, The Great White Way.
In April of 1997 Suchy Publishing Co. Released eleven new signed and numbered editions of New York City Scenes. Among these images are the Famous Suchy Frankfurter and N. Please check my other listings for more art and clothing designer classics. Don't be scared to make an OFFER!
Listing and template services provided by inkFrog.