NEW One Piece 25th Anniversary Premium Card Collection English Free Delivery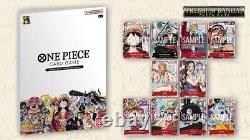 Celebrate the 25th anniversary of the epic journey with the exclusive One Piece Premium Card Collection! Immerse yourself in the captivating world of Luffy and his crew, and relive unforgettable moments from the beloved anime series. Comprehensive Set: This premium collection features a comprehensive set of intricately designed cards, each showcasing iconic characters, thrilling battles, and emotional scenes from the enthralling One Piece saga.
High-Quality Artwork: The cards boast high-quality artwork, capturing the essence of Eiichiro Oda's stunning illustrations and breathing life into every character and setting. Limited Edition: Commemorate the 25th anniversary with this limited edition set, a must-have for any true One Piece enthusiast and a valuable addition to your collection.
English Edition: All cards are in English, making it accessible to a broader audience and enabling fans worldwide to appreciate the magic of One Piece. Condition: Brand new, unopened, and undamaged item. Quantity: 1x One Piece 25th Anniversary Premium Card Collection. Set sail on an adventure like no other and join the Straw Hat Pirates as they navigate the Grand Line and chase their dreams! Whether you're a long-time fan or a newcomer to the world of One Piece, this premium card collection promises an unparalleled experience and a cherished keepsake of your favorite moments.
Grab your One Piece 25th Anniversary Premium Card Collection now and embark on a thrilling journey filled with camaraderie, action, and unforgettable memories! Order today and let the adventure begin!