Nathan Wyburn Signed Print Terry Higgins Portrait, Limited edition of 100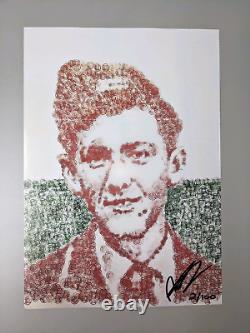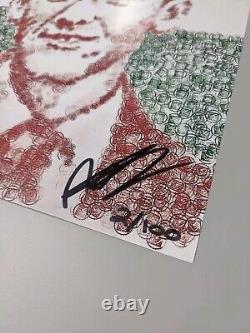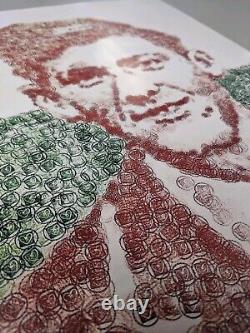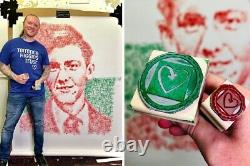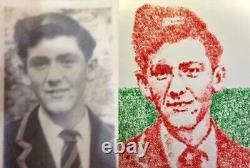 Nathan Wyburn Signed Print: Terry Higgins Portrait, Limited edition of 100. Size: 297 x 420 mm. Limited edition: Only 100 available (numbers allocated at random). Sales of these prints benefit Terrence Higgins Trust's work to support people living with HIV and end new cases of HIV in the UK by 2030. These limited edition prints are of a new portrait of a previously unseen childhood photo of Terry Higgins that has been unveiled in the Senedd (Welsh Parliament) to mark 40 years since the Welshman became the first named person in the UK to die of an AIDS-related illness. Terry's portrait serves as a poignant reminder of the recent past when a HIV diagnosis was tantamount to a death sentence.
The portrait of Terry from his school days in Haverfordwest was painted in Welsh colours of red and green by Cardiff artist Nathan Wyburn using heart shaped stamps - the symbol which is seen in Terrence Higgins Trust's logo, the charity named in Terry's memory. As an artist who comments on and reflects the key social issues, and a proud gay man, being asked to mark the 40th anniversary of Terrence Higgins Trust is a huge honour. I've stayed with my unusual way of using everyday relatable items to make the art - this time it's stamps in the shape of the charity's heart logo.
I wanted to make something that showed Terry as a young Welshman, so I thought why not quite bluntly turn him into the Welsh Dragon of our flag? The colour palette of green and red ink instantly showcased this. I'm proud to unveil this artwork with the First Minister Mark Drakeford and humbled to continue to highlight the legacy of Terry Higgins.
Print edition numbers will be allocated at random. Thank you for visiting our listing! Argraffiad wedi'i lofnodi gan Nathan Wyburn: Portread Terry Higgins, Argraffiad cyfyngedig o 100. Argraffiad cyfyngedig o 100 (rhifau wedi'u dyrannu ar hap). Mae gwerthiant y printiau hyn o fudd i'n gwaith i gefnogi pobl sy'n byw gyda HIV a dod ag achosion newydd o HIV yn y DU i ben erbyn 2030.
Mae'r argraffiadau cyfyngedig hyn o bortread o lun plentyndod Terry Higgins nas gwelwyd o'r blaen. Fe'i dadorchuddiwyd yn wreiddiol yn y Senedd i nodi 40 mlynedd ers i'r Cymro gael ei enwi fel y person cyntaf yn y DU i farw o salwch yn ymwneud ag AIDS. Mae portread Terry yn atgof ingol o'r gorffennol diweddar pan oedd diagnosis HIV yn gyfystyr â dedfryd o farwolaeth. Cafodd y portread o Terry o'i ddyddiau ysgol yn Hwlffordd ei beintio mewn lliwiau Cymreig o goch a gwyrdd gan yr artist Nathan Wyburn o Gaerdydd gan ddefnyddio stampiau siâp calon - y symbol a welir yn ein logo.
Yr Artist Nathan Wyburn:'Fel artist sy'n rhoi sylwadau ar ac yn adlewyrchu y materion cymdeithasol allweddol, ac sydd yn ddyn hoyw balch, mae cael cais i nodi 40 mlynedd ers sefydlu Terrence Higgins Trust yn anrhydedd enfawr. Rwy wedi aros gyda fy ffordd anarferol o ddefnyddio eitemau cyfnewidiadwy bob dydd i wneud y celf - y tro hwn stampiau sydd yma ar siâp logo calon yr elusen. Roeddwn i eisiau gwneud rhywbeth oedd yn dangos Terry fel Cymro ifanc, felly meddyliais pam ddim yn hollol blwmp ac yn blaen i'w droi'n Ddraig Gymreig ein baner? Roedd y palet lliw o inc gwyrdd a choch yn dangos hyn ar unwaith.
Rwy'n falch o ddadorchuddio'r gwaith celf hwn gyda'r Prif Weinidog Mark Drakeford ac yn falch o barhau i dynnu sylw at etifeddiaeth Terry Higgins. Bydd rhifau yr argraffiadau print yn cael eu dyrannu ar hap. Bydd y printiau'n cael eu cludo mewn tiwb cardbord amddiffynnol.