Massena LAB Geometer / Limited Edition to 99 pieces / New, unworn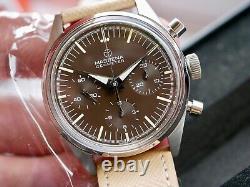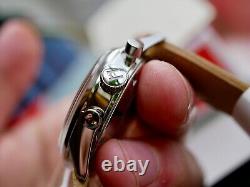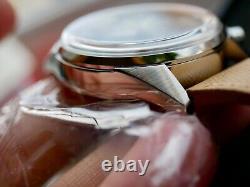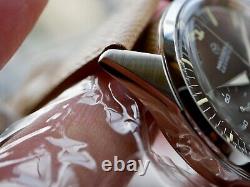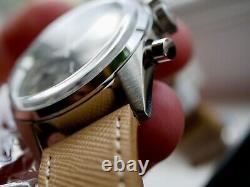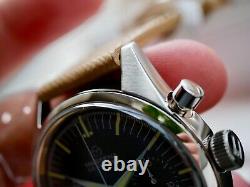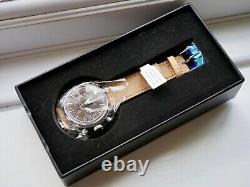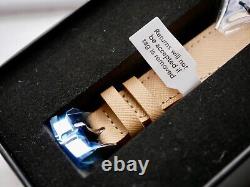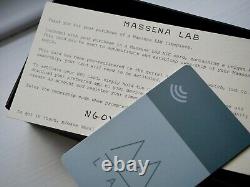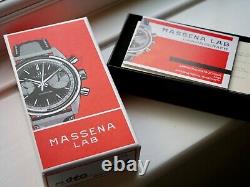 The Massena LAB Geometer is a reincarnation of a little-known, vintage chronograph, the Rodania Geometer, which has long been considered something of a grail watch for a niche of vintage watch enthusiasts and collectors. The original Rodania Geometer reference, while closely resembling another famous Swiss chronograph, dates to 1954, three full years before the release of its doppelgänger, the Omega Speedmaster. Little else is known about the genesis of the watch, and while the company exists to this day, journalistic outreach to Rodania has not proved fruitful as the company has seemingly not responded for comment. Like many other Swiss manufactures (and in this case, Belgian) its ownership has changed hands over the years, and sadly, the company no longer resembles its former self. The Massena LAB Geometer is a vintage-styled chronograph with a tropical dial, distinctively wide and sharp hour and minute hands, three registers, and cream lume on its hands and hour indicators. The Geometer is fitted inside a 39mm polished stainless steel case with brushed lugs for visual interest. Its three sunken subdials, which are radially grooved, include a thirty-minute counter at 3 o'clock, twelve-hour counter at 6, and small seconds counter at 9. The Geometer uses a domed, acrylic crystal, with the addition of an engraved and stylized "M" at its center.
This small, but important, detail, while difficult to manufacture, is a meaningful nod to the original, and now vintage, models. I unwrapped it slighly from a protective film only for a purpose of taking a photo for this listing and as a proof of ownership required by chrono24. All seals are still intact.
It is a full set. Watch + box, papers and RFID card. Collection is also available from Manchester & Cheshire East area.