Float Mounted Homebirds by Aaminah Snowdon Limited Edition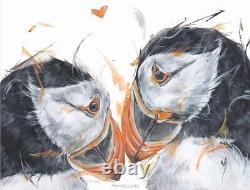 Size : 32.0 x 31.0cm. Full Certificate of Authenticity & Documentation. Each individually numbered & titled by artist. Aaminah Snowdon is a British contemporary artist, born in 1990, in Northallerton, North Yorkshire. Aaminah's work exclusively depicts British wildlife, farm animals and pets. Totally self-taught, she has developed her own signature style. Bold, spontaneous brush strokes, with loud, vibrant colours, focusing on the innate humour and eccentricity of the British animal. Very few artists can capture an animal's hidden personality like Aaminah Snowdon. The end result is energy, expression and quirkiness.
She uses acrylic paint on watercolour paper, and completes each painting with a witty title. As you can imagine from the subject matter of her paintings, Aaminah has always been an animal lover. When she's not painting, she spends her time with rescue animals.
She also donates a percentage of her profits from painting to animal charities, notably The Wildlife Haven in Thirsk, North Yorkshire.