Fantasy Rose Sunrise Limited Edition 11x14 Linen Fine Art Print Signed #'d /300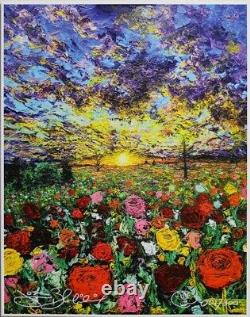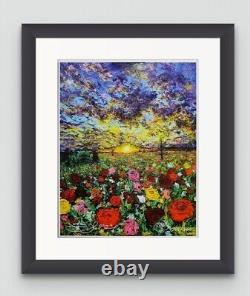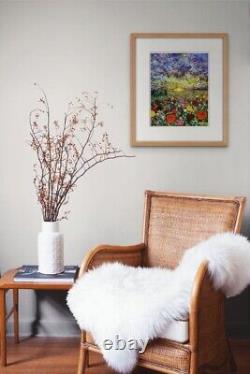 About Joshua's Limited Edition, Museum-Quality, Textured Linen Fine Art Prints. Prints are definitely the most cost-efficient way to collect Joshua's art. Each of his prints are signed and approved by Joshua to assure that they're the closest, most accurate representation of the original piece that exists. Each print is 11x14 and created using archival inks on heavyweight, acid-free linen paper. Linen is an amazing textured paper that keeps the colors vibrant while also being built to last generations. Each piece is signed and numbered using high quality oil paint markers---these markers offer a permanent signature that last just as long as the classic pencil/graphite signatures, but are much more complimentary to the piece. The listing is for the print only. Any frame or matte shown isn't included---they're shown to give ideas, relay size, and help visualize the piece in your space. Joshua is a full time artist from Medina, Tennessee. Most recently he won "Best in Show" and "People's Choice" Awards for Leonid Afremov/Afremov.
Com's "Art for Peace" original art competition. He's been showcased in multiple solo and group exhibitions across the United States. Joshua has custom commissions hanging in the State of Tennessee's Governor's Mansion as well as homes of multiple celebrities---including the Memphis Grizzlies' superstar and 2020 NBA Rookie of the Year, Ja Morant, Tennessee Titans All-Pro Running Back, Derrick Henry, the estate of Rock and Roll Hall of Fame Inductee, Carl Perkins, NBA All-Star, Brandon Ingram, Tennessee Titans All-Pro Defensive Lineman, Jurrell Casey, etc...
Some of his corporate clients include: Netflix for use in the Adam Sandler and Lebron James produced film titled "Hustle", Paramount for work included in their mini-series "George and Tammy" that documents the relationship between country music legends George Jones and Tammy Wynette, ESPN for use in their documentary series, titled NBA Rooks. " Most recently, Joshua provided the cover art for James Cherry's re-release of his highly acclaimed novel, "Edge of the Wind. Joshua's art has also been the subject and study of a collegiate art class at Union University in Jackson, TN as well as features in multiple print, news, and web publications. I love and thank all of you guys for supporting the arts and spreading some color!