CHARLES BRAGG Hand Signed Limited Edition Lithograph COURT SUPREME JUDGES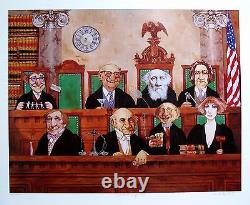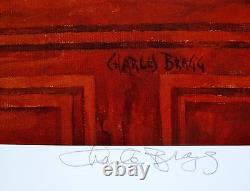 This is a Charles Bragg limited edition hand signed lithograph titled "Court Supreme". Medium: Lithograph on Arches [Pencil Hand Signed and Numbered in Pencil]. This lithograph is numbered from an edition of 950. Paper Size: 21-1/2" x 30".
Comes with a certificate of authenticity. Great gift for the Judge or lawyer in your life. Charles Bragg was born in St. He is one of America's foremost social satire artists. His witty interpretations of human life can even make the toughest art critic smile.
He does not limit himself to one artistic medium, Bragg is an accomplished painter and sculptor. He has received numerous awards for his painting and sculpting, including the Gold Medal for the National Society of Illustrators and the Award of Merit from the Art Directors Guild of New York. Charles Bragg's work is whimsical and light hearted. He an experienced observer of mankind and his work accurately captures those moments in life that we can all relate to.
His entourage of characters play out situations from everything from the justice system to professional ballet. Bragg's images are from the heart, and he gets a laugh while creating them. Charles Bragg died on January 9, 2017 at age 85.