ANCIENT CIVILIZATIONS Mr Clever Art Pop Surrealism Print CleverVision Art Labs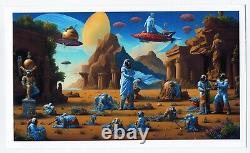 MOON MEN OF ANCIENT CIVILIZATIONS - Unique & Eye-Catching Artwork. Artist: CleverVision Art Labs In-House Team - Expert Craftsmanship. 24" x 42" - Perfect Size for Home or Office Display. Fine art print for exceptional quality. Archival pigment ink for lasting vibrancy.
Premium cotton fine art rag for a luxurious feel. 1/4 white bordered edges for added framing options.
Edition: One-of-a-kind (1/1) - Exclusive & Highly Collectible. Numbered on the reverse for authenticity. Stamped on the reverse with CleverVision Art Labs Insignia for added prestige. Year: 2023 - Contemporary & Relevant.
The artwork "Moon Men of Ancient Civilizations" offers a captivating visual exploration of an undefined timeline, where ancient societies and moon-dwelling beings coexist in a surreal and mysterious realm. The artist masterfully intertwines the realms of the past and the future, conjuring a world that transcends time and space, inviting the viewer to engage with a narrative both.
Fantastical and deeply rooted in our collective history. At first glance, the piece is striking in its use of vivid colors and intricate details. The artist demonstrates a keen understanding of color theory and compositional balance, creating a harmonious interplay of light and shadow.
The color palette, consisting of rich blues, purples and golds, is evocative of the night sky and conveys a sense of wonder and otherworldliness that underscores the theme of moon men and ancient civilizations. The depiction of the moon men is both intriguing and enigmatic. These celestial beings, with their elongated limbs and otherworldly features, seem to exist in harmony with the ancient people who inhabit the scene. Their presence raises questions about the nature of their relationship with the terrestrial inhabitants: Are they guides, teachers, or simply curious observers? The artist leaves this question open-ended, allowing viewers to interpret the interaction according to their own imagination.
In the background, the artist renders architectural elements of ancient civilizations with great care and precision. The inclusion of these structures not only serves to anchor the piece in a historical context but also speaks to the universality of human curiosity and our enduring fascination with the cosmos. The artwork prompts the viewer to ponder the interconnectedness of humanity and the universe, as well as the potential for life beyond our own planet. Overall, "Moon Men of Ancient Civilizations" is a thought-provoking and visually arresting artwork that challenges the viewer to consider the mysteries of time, space, and the human experience.
The artist's skillful blending of historical and fantastical elements creates a piece that is both imaginative and deeply rooted in our collective consciousness. It is a testament to the power of art to transport us to realms beyond our everyday existence and invite us to explore the uncharted territories of our own imagination. " ANCIENT CIVILIZATIONS" fine art luxury rag print is only produced by the renowned artist studio, CleverVision Art Labs, known for creating dynamic and visually striking artworks. This limited edition print is a one-of-a-kind piece, created using archival pigment ink on luxury cotton fine art rag paper, ensuring that it will last for generations. Each print is individually numbered and adorned with the CleverVision Art Labs insignia on the back, along with luxury white color edges, which serve as a testament to the artwork's authenticity, provenance and value.
With dimensions of approximately 24" x 42", these pieces are ideal for collectors seeking to enrich their collections with distinct and valuable art. The artwork arrives unframed and unmatted, offering a personalized opportunity for collectors to choose a frame that harmoniously complements their interior decor's color scheme and style. CleverVision Art Labs, the creative hub of the esteemed artist Mr. Clever Art, is renowned for its captivating and visually striking masterpieces. The studio is devoted to crafting exceptional, boundary-pushing artwork that stands out in the realm of contemporary art.
Employing diverse techniques and mediums, CleverVision Art Labs ensures that every piece is a singular work of art. The studio's reputation is built on its unwavering commitment to quality and meticulous attention to detail. Each print is created using archival pigment ink on luxurious fine art paper or canvas, guaranteeing the longevity of the art for generations to come. CleverVision Art Labs also takes pride in incorporating hand-deckled color edges by the artist, adding a bespoke touch to select pieces and enhancing their unique appeal.
CleverVision Art Labs boasts an extensive portfolio of artworks spanning urban pop street art, contemporary graffiti, modern surrealism and beyond. The studio's ongoing Contemporary Graffiti and Pop Culture Icons Series are in high demand, making them prized additions to any art collection. Moreover, the studio offers an array of limited edition and distinctive pieces that are destined to be cherished for years to come. Dedicated to delivering a memorable and gratifying art purchasing experience, CleverVision Art Labs provides each artwork with a certificate of authenticity or a stamped insignia, verifying the piece's authenticity and value.
Additionally, the studio presents custom framing options, simplifying the process for collectors to showcase their newly acquired treasures in their homes or offices. In essence, CleverVision Art Labs is a visionary studio devoted to producing exceptional and distinctive artworks that challenge the boundaries of contemporary art.
With a diverse array of techniques and mediums, the studio presents a plethora of artworks ranging from urban pop street art to modern surrealism to contemporary graffiti and beyond. For discerning art collectors seeking to acquire a unique and valuable addition to their collections, CleverVision Art Labs is the ultimate.