2018 Limited Edition Grand Seiko Pink Champagne SBGA371 Watch 1/500 Pieces JDM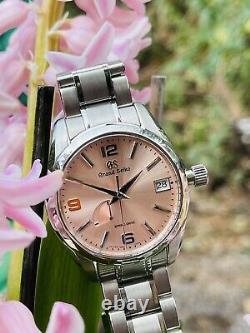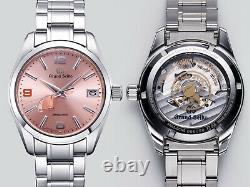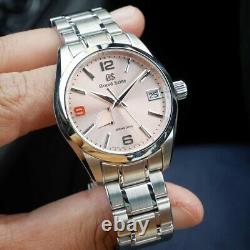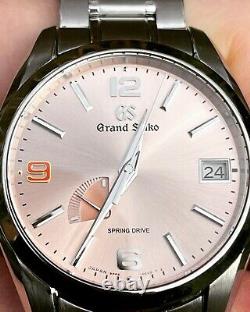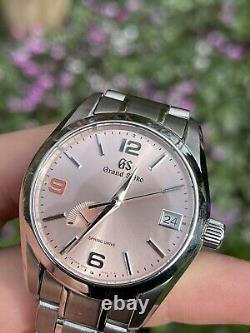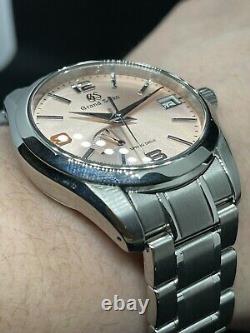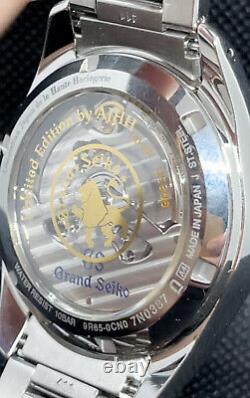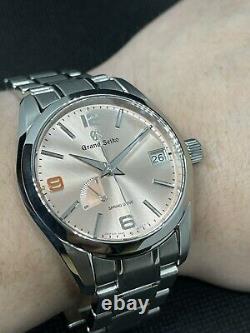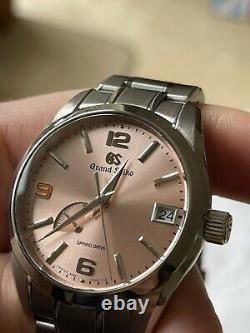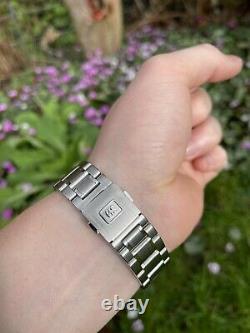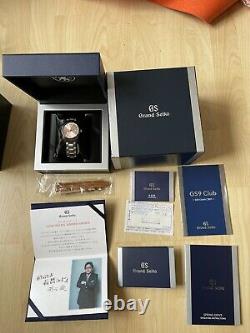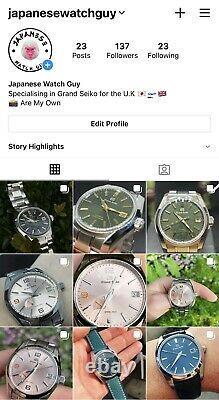 Cash or bank transfer on collection. I dont want to trade it for your mums 1965 omega or your g-shock so please please stop asking stupid questions!
I also dont want to respond to your message offering a tenner because its your grail watch and youve had a really tough year. You want a big boy watch you pay big boy prices. Now onto the stuff you actually want to read. The SBGA371, also termed pink champagne. First off let me start by saying, this is a tough sale for me.
This is an extremely rare watch, limited to 500 pieces exclusively for the Japanese market. Grand Seiko is currently doing 35000 watches a year. So this made up 1.5% of manufacturing in 2018. Given the dial change in 2017, this watch makes up..... 0.29% of all new dial grand Seikos (to date) and will obviously become rarer. Then add into the equation that pre dial change in 2017, grand seiko has been around since 1960 and that should hit home. I hope this puts into perspective as to just how rare this watch is, and will become. To compare, 800,000 timepieces roll of the line at Rolex every year, 35,000 at Grand seiko.
For every 6400 Rolexs you may see that have been made from 2017 onwards, youre going to find just one of these. Theres something very satisfying knowing that youll be the only person who owns this watch probably in the country, because lets not kid, we all want what others cant have or find for this matter!
This is an appreciating timepiece, as the growth of grand seiko continues, I wouldnt like to put a number on what this will be worth in 5 years time, but Im guessing a lot more than what youre about to pay for it! The SBGA413 took us by storm in 2021 with the pink dial, but this piece got slept on, and youre going to see less of them about. It came about as a limited edition collaboration with famous Japanese record producer Mr Yasushi Akimoto for the AJHH, also known as the Japanese Association of Haute Horlogerie dont worry I didnt know when I first started out into the world of horology either! The other collab grand seiko have done for the AJHH is the SBGA421 which is a nice piece to.
From writing the last hit for enka legend Hibari Misora before her death, to making a movie in New York with Yoko Ono, to his most recent success with AKB48. Akimoto, 55-year-old pop producer has covered all the bases and is somewhat of a Japanese legend.
The watch has a distinct vermillion red number 9. This is all to do with the Japanese businessman, commonly referred to as a salaryman. The culture in Japan is such that 9 o clock is significant. Its the time you turn your light on to start working, and the time you clock off to wonder into the night with your colleagues for a Sake.
Akimoto wanted to signify this on the watch, which I think makes it pretty unique and everyone knows the watch as soon as they see it. If youre here looking at grand Seikos you wont be sidetracked by all the design talk and limited edition talk. The watch is everything youd expect from a grand seiko. Spring drive, my favourite movement from grand seiko, and may I add, not copied by anyone. Grand seiko designed this movement and are the kings of it.
Just to give you an idea of how perfect the Japanese got this, it took them 600 prototypes before finally releasing the movement to market. The one thing that youll want to know is that youll lose about 10 seconds a month on it, I typically experience around 5-7 on most of my spring drives. Just to put that into perspective, a solid automatic movement typically loses that a day.
A Rolex GMT - 2-4 seconds a day is typical just to give you an idea. The case is 39mm, for me the perfect size. The market has recognised that the 42mm+ tanks on peoples wrists simply arent practical or particularly good looking anymore. The size makes it wearable for any occasion, but on the wrist the champagne pink really pops and makes this 39mm case pack a punch from a distance.
Combined with the zaratsu polishing and this thing is like a beacon in natural sunlight, a real delight. The Zaratsu polishing that is done so by hand takes about three years to learn.
All Indices, hands & logo are ground, polished and faceted against a diamond tipped milling tool. Because of the number of watches grand seiko produces, this is still all done by hand. The watch is sized to around 17.5cm and has no spare links.
And you definitely wont see another one for a very very long time. The watch of course comes with all original packaging including a nice limited edition handout which is pretty cool. Nevertheless it will be included in the sale. I would classify and grade the watch condition as very good - little signs of wear, hopefully the photos do it justice but there are some videos of the insta page. You are welcome to come and inspect the watch, try it on, see it for yourselves socially distanced at HR8.
I would encourage you to direct most questions to the insta page - Japanesewatchguyguy. I will listen to sensible offers.
The item "2018 Limited Edition Grand Seiko Pink Champagne SBGA371 Watch 1/500 Pieces JDM" is in sale since Thursday, February 4, 2021. This item is in the category "Jewellery & Watches\Watches, Parts & Accessories\Watches\Wristwatches". The seller is "japanesewatchguy" and is located in Ledbury. This item can't be shipped, the buyer must pick up the item.
Brand: Seiko
Type: Wristwatch
Dial Colour: Champagne
Department: Unisex Adult
Features: Limited Edition